Description
Ingredients: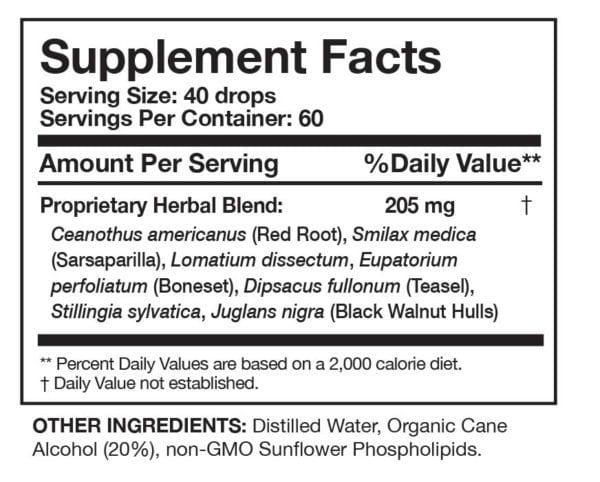 Directions:
As with any new nutritional supplement, patients should start slowly. Take away from meals and add to 1-3 ounces of water. If patient experiences nausea, have the patient dose the product 15-30 minutes after a light carbohydrate snack.
STARTING DOSE FOR ADULTS:
Days 1-3
3-5 drops in 1-3 ounces of water in the morning and again in the evening
Days 4 & beyond
Increase 3-5 drops every other day, in both morning and evening doses
FULL DOSE FOR ADULTS:
This would take 10-14 days to get to full dose of 40 drops in each morning and the evening.
Another dosing strategy used by many doctors is to have patients work up to a double dose (80 – 90 drops twice per day)
SENSITIVE PATIENTS:
Start with Detox Protocol to the left plus repeat 30 minutes before taking BLt™ and/ or Crypto-Plus™
Start with 1 drop in 1-3 ounces of water once per day, and slowly increase the dose as your body is able to do so.
2 hours after taking BLt™ and/or CryptoPlus™, repeat Detox Protocol
ULTRA-SENSITIVE PATIENTS:
Start by dosing every other day; consider having patient swish in mouth and spit out to minimize absorption
PEDIATRIC DOSING:
Based on reported physician experience, pediatric dosing with children 8 years and older: start at 1-2 drops added to a diluted apple or berry juice and work slowly up to 20-30 drops 2x/day over 2-3 weeks.
What to Expect
Patient reaction to these advanced microbial balancers is similar to what one experiences when starting immune support protocols: some patients experience a "Herxheimer" reaction while others do not. However, a patient who reacts to antibiotics and/or other nutritional protocols should start slowly.