Light & Nutritious Summer Recipes!
Want some Summer recipes that will work for an outdoor cookout, or an easy laid-back indoor get-together? Our guest blogger, Kaylee Murphy, got you covered! Kaylee is one of our favorite bloggers for many reasons. We love her creativity in the kitchen and her attention to good nutrition and healthy eating, and the way she wraps both beautifully with well-written entries and mouth-watering photos in her blog!
Before we get to the yummy recipes Kaylee has for us, we'll let her introduce herself:
Festive, fun, and delicious, this salad is a great way to celebrate the Fourth, or to eat whenever! 🙂
Author: Kaylee
Recipe type: Lunch/Dinner
Ingredients
Fresh spinach/mixed greens
Strawberries
Blueberries
Jicama
Dried cherries/cranberries
Optional add ins: quinoa, nuts
Strawberry Lime Poppyseed Dressing:
½ cup chopped strawberries
The zest of one lime
¼ cup freshly squeezed lime juice (sometimes I like to add a tablespoon or two more for that extra tang, but you can adjust it to whatever tastes good to you)
2-3 tablespoons raw honey
2 tablespoons Chosen Foods Avocado Oil (or any other mild-tasting oil)
1 tablespoon strawberry balsamic vinegar (or regular balsamic vinegar)–I like this brand
1 tablespoon poppy seeds
Sea salt to taste
Instructions
First, throw all the ingredients for the dressing, except for the poppy seeds, in a blender and blend until the mixture is smooth. Then, stir in the poppy seeds. Place the dressing in the refrigerator until you are ready to use it.
Next, combine all the ingredients for the salad in a large mixing bowl until you achieve a nice balance.
Finally, when you're ready to serve the salad, pour the dressing over the salad and toss until everything is coated.*
Enjoy!
Notes
*Sometimes I like to pour my dressing on 30-60 minutes prior to serving so that the flavors have a chance to marinate, but some people don't like it when the greens get too wet and wilted, so feel free to do it however you like.
———————————————————————————————————————————————————————————————————–
Energize your body with this immune-boosting digestive tonic!
Author: Kaylee
Recipe type: Drinks
Ingredients
4-6 ounces freshly squeezed lemon and lime juice (I use about one large lemon and 1 & ½ large limes)
About 10 ounces water (you can use less or add more depending on how tart you like it)
1 tablespoon freshly grated ginger
1 teaspoon stevia or raw, local honey (I use Kallas Raw Honey)
2-3 pinches cayenne pepper (depending on how much spice you can tolerate)
Instructions
Squeeze your fresh lemon and lime juice into a shaker.
Add the rest of the ingredients and shake well.
Strain the drink into a jar to get rid of any lemon seeds and the freshly grated ginger for a nice smooth drink. Cover and shake again.
Refrigerate until chilled.
Shake each time before drinking to make sure you get all that good spice. Enjoy!
Notes
This drink is great in the summer, too! It makes a great lemonade replacement!
————————————————————————————————————————————————————————————————————
Easy, nutrient-dense trail mix that's healthy, but tastes like dessert! Yum!
Author: Kaylee
Recipe type: Snacks
Ingredients
2 cups walnuts, raw
1 cup cashews, raw
1 cup almonds, raw
1 cup coconut chips
A heaping ⅓ cup coconut sugar
4 tablespoons coconut oil
2 teaspoons vanilla flavoring (not extract!)
A sprinkling of sea salt
2 cups dried bananas/banana chips (without added sugar!)
1 cup dairy-free dark chocolate chips/chunks (optional, but a must in my opinion)
Instructions
First, place the nuts, coconut chips, coconut sugar, coconut oil, vanilla, and sea salt in the crockpot. Next, mix the ingredients together, cover the crockpot with the lid, and turn it on high for 45-60 minutes. Stir the mixture frequently while it's cooking to make sure the coconut chips don't burn.
Then, after 45-60 minutes, turn the heat down to low and cook for another 20-30 minutes.
Next, remove the mixture from the crockpot and spread it out onto a large sheet of parchment paper to cool.
Finally, once the mixture has cooled, mix in the banana chips and dark chocolate (if using).
Enjoy!
Notes
Store the trail mix in an airtight container or large ziplock bag.
————————————————————————————————————————————————————————————————————
Here's a little bit about our guest blogger: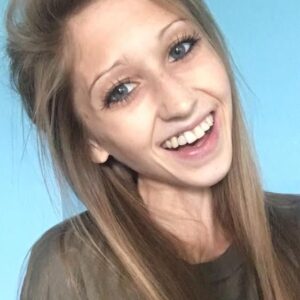 Hi! My name is Kaylee Murphy and I am a recipe developer, food blogger, private chef, and an extremely passionate health enthusiast. I'm the founder and creator of KayliciousHealth.com where I share recipes specifically geared toward those with food allergies and sensitivities (or for anyone who likes to branch out from the standard American diet and eat healthy). I also like to share some of my favorite health and wellness tips that I've learned throughout my own health journey. About ten years ago, I was diagnosed with Celiac disease, which led me to discover my love for cooking/baking as I was determined to still enjoy my food. Throughout the years I've also struggled with some other health issues, which has fueled my passion for researching all things health, wellness, and nutrition (you can read more about my journey on my website under the "About Me" tab). In trying to heal my body naturally, I've experimented with many different ways of eating and have been able to express my creative side in the kitchen. I've learned about and experimented with foods that I otherwise may have not tried had it not been for my health struggles.  That being said, I love creating recipes that not only taste good, but also make me feel good and fuel my body…
---